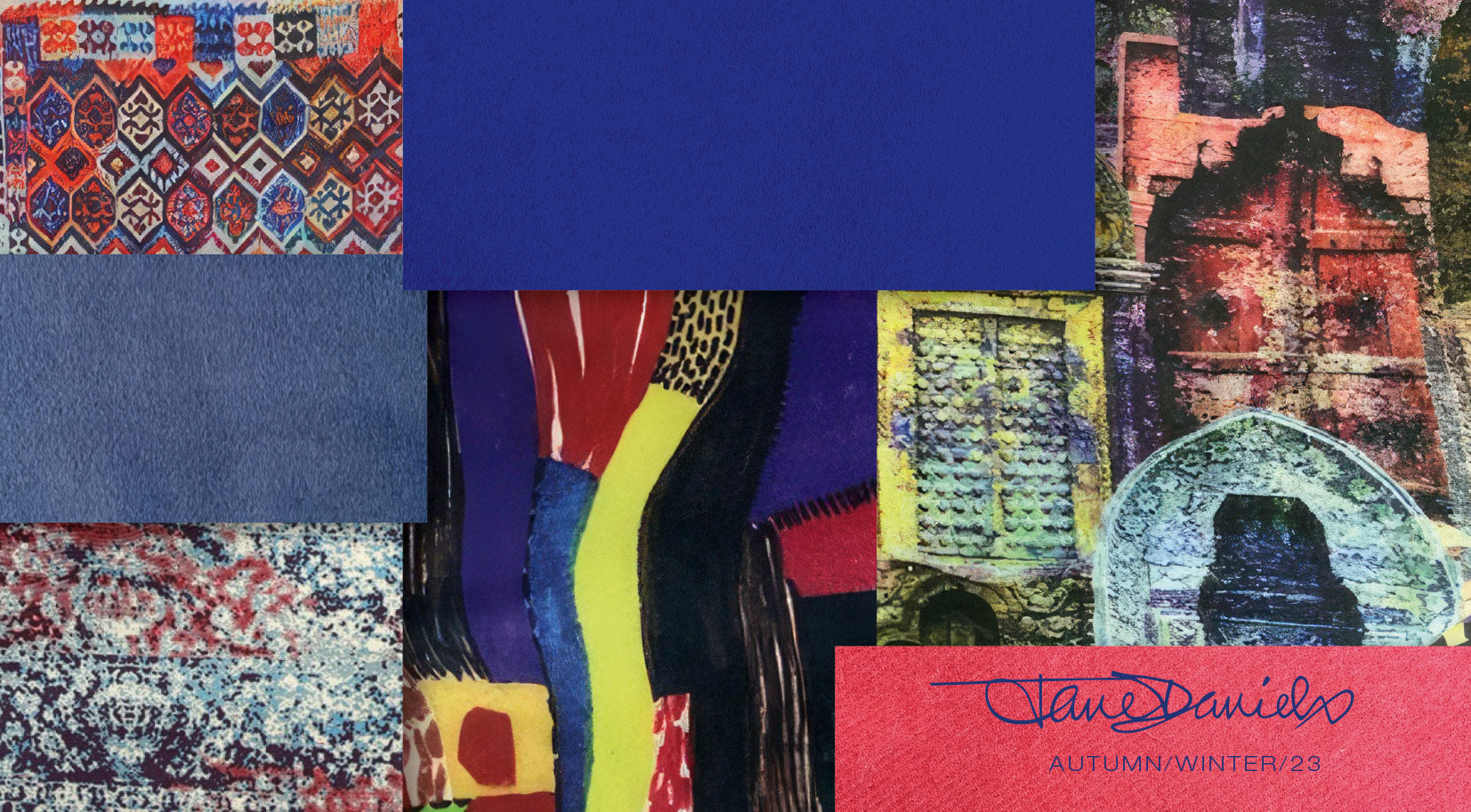 WINTER HOLIDAY IN MARRAKECH
The inspiration for this collection comes from a winter trip to Marrakech. The vivid colours, the bright, luminous light, the lively bustling souks and exotic, striking architecture have influenced all the artists who came to Morocco to paint. They all say that it changed their work forever. Delacroix. Mariano Fortuny y Marsal, Matisse…

This season's colour palette is from the soft orangey-red walls of the city's alleyways, the strong purple-blue of the pavilions in the Majorelle Gardens and the snow-capped smoky blue-grey of the Atlas Mountains — the mountains that Winston Churchill would paint from his balcony at the now sophisticated and sumptuously appointed La Mamounia hotel. "It is the most lovely spot in the whole world" he told Franklin D. Roosevelt when he insisted he accompany him there.

Back in the sixties, American architect and designer Bill Willis arrived in Marrakech, worked with local artisans, and breathed new life into traditional techniques of Moroccan craftsmanship. He became the leading aesthetic light of Moroccan style, which continually inspires me to revisit Marrakech. Fabulous Moroccan interior design ideas have now spread across the globe and there are an increasing number of exotically decorated hotels and riads in Marrakech.

When Yves Saint Laurent and Pierre Bergé arrived soon after Willis, they bought a house there, and had him "fix up" the next one and collaborated on several projects. Saint Laurent loved Marrakech so much that he often had to be wrenched back to Paris. He said "Marrakech taught me colour. Before Marrakech everything was black."

Saint Laurent and Bergé later bought the Villa Oasis and saved the Majorelle Gardens next door from a real estate development, enhanced them, then added the stunning Berber jewellery museum, and then a full-scale museum to Y.S.L.
In this collection the high quality woollens are again dyed to my colour specifications in Italy. I have added Arabesque themed silk prints: Moroccan horseshoe shaped archways (the shape we created for our photoshoot lighting), an Oriental rug design, an old, frescoed wall, a floral in strong purple-blue and an abstract art design in Moroccan colours.

The styles all have Moroccan names, and which are places I have visited or hope to visit soon. There is so much to experience there that is stimulating. So many riads to try, the food — which is different and delicious — and Marrakech has a mysterious and magical quality that keeps pulling me back. If you are as interested in Morocco as I am, I can recommend the captivating historical novels of Morocco and Cornwall by Jane Johnson, the Cornwall girl who married a Moroccan and who now live together in both places.