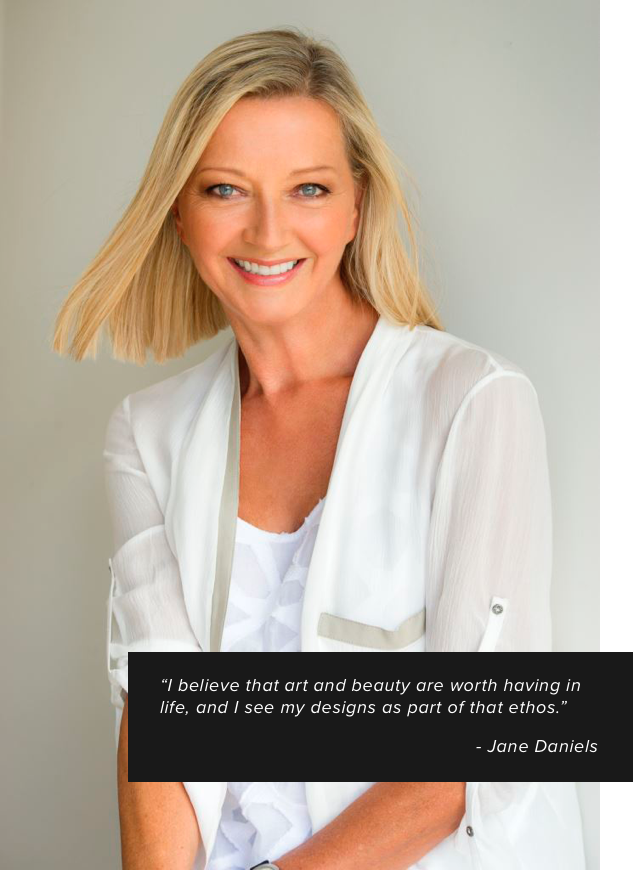 JANE DANIELS STORY.
Jane Daniels is the founder and creative force behind the eponymous label she created in 1986.
British born, Jane had won many fashion design awards before starting her own successful accessories business at 19.
She graduated in graphic art in Auckland, but intent on making a career out of her passion for clothing design, she set a course for London where she was accepted into the prestigious London private fashion school established by the famous pattern maker Natalie Bray. Jane Daniels held down three jobs to fund her expensive tuition. In the face of financial strain, poor diet and long hours, it was sheer determination that carried her through and she came out the other end a successful graduate ready to embark as a fashion designer in London.
After building up a wealth of experience designing in London and in New Zealand, Jane started her own company and fashion label.
Her mission statement was to build a reputation for elegant clothes of extremely high quality from European fabrics and she has developed enduring relationships with some of Europe's best mills. "I make on the spot buying decisions when I visit Europe and the result is that we stay ahead of the game with new fabrics. As a result the fabric that goes into our garments is ahead of Europe and North American fashion."
"Authenticity and Integrity run through my business," Daniels says. "With my name above the door and on every garment, it is a very personal endeavour to get things right in all ways."
Jane takes an active role in every design. The production is a team effort and as Jane's business has expanded, so has her team. Fresh faces and new experiences fire her creativity.
"New ideas come from new places. A love of travel, in part borne out of a love of reading, has opened up an ever expanding world of colour and culture. In particular, travel biographies of pioneering women who battled the odds and led extraordinary lives. Travel begins for me when I start reading about a place and start connecting the relationships between cultures and the individuals within. I do a great deal of research before I set out to exotic destinations."
One remarkable trip to the rose coloured ancient city of Petra was the catalyst for a lasting relationship with a remarkable travel company, The Innovative Travel Company. Where Jane has since taken the role of brand ambassador for Innovative Travel's Ancient Kingdoms Holidays.